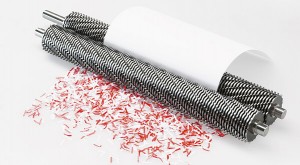 In today's economy, it is critical to manage expenses wherever possible.  We can help you manage your budget by assessing whether a machine can be repaired or needs to be replaced.  Our service technicians have over 75 years combined experience in working with shredders and other processing machines.  Most operational issues can be repaired at a fraction of the cost of replacing the machine. In the odd cases where a machine cannot be repaired, we have a large inventory of refurbished machines available at significant cost savings to you.
What we provide:
Onsite damage assessment and repair
Periodic cleaning and maintenance*
Training/education on machine use
Parts, bags, oil, etc.
* – free for 1st year after purchase, available with Maintenance Contract thereafter
SHREDDER INSPECTION
Inspect shredder cutting head
Check all electrical components
Warn you of potential fire hazard from internal paper dust buildup
Test overall performance
SHREDDER TUNE-UPS
Remove paper buildup
Clean and adjust the shredder cutting head
Clean all switches and electrical contacts
Adjust and align gears/movable parts
Lube gears and movable parts
Test for proper operation and performance
CALL TODAY FOR SERVICE AND REPAIRS!  1-800-783-8355